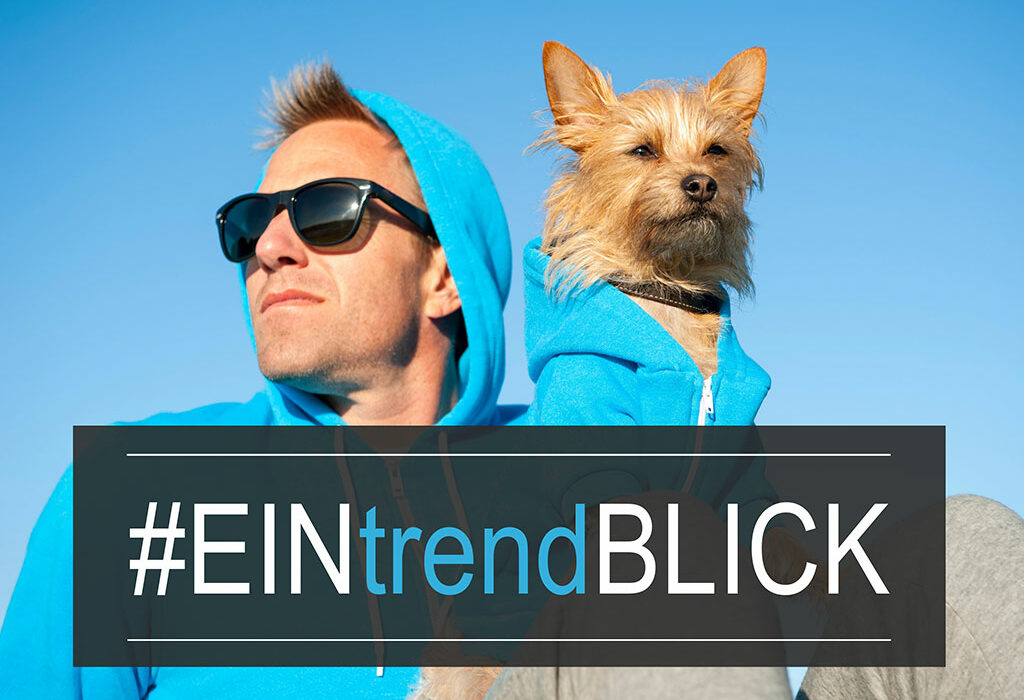 26. July 2022
EINtrendBLICK on animal health
It's been a while since we last let you hear something from our trend research. Even though the heat wave is only just beginning, we have already escaped the summer slump and are starting today with our new format #EINtrendBLICK!
Projects and studies around the topics of health, beauty and FMCG are the focus for us at ISM. However, the focus is not always on humans, but increasingly on our animals. For us, this is reason enough to start the new #EINtrendBLICK series with our (domestic) animals! 
#LIFESTYLE Dogs and cats are still the most popular pets in German households. And the Corona pandemic has increased the number even more. The awareness of the health of our pets has also changed in the course of the pandemic. We spent more time at home, were able to spend more time with our four-legged friends and thus directly observe when the dog or the cat showed changes in their behaviour. As a result, the health of our companion has become more clearly in focus.
#HEALTH For us humans, the health trend has become fully established in recent years. We are more interested in our diet, we are even tempted by new types of sport to exercise more and the work-life balance is no longer an abstract construct, but has found its way into the daily and lifestyle routines of many. And often, when a trend has developed in us, adaptations of it can also be found in our pets. Our relationship to our four-legged companions has also changed. They are no longer just watchdogs or mousers – dogs and cats are now seen as substitutes for partners or children and, above all, as full-fledged members of our family. We want them to live a life as long and enjoyable as possible, with many amenities that we have also been able to benefit from for some time. This creates a fertile environment for new product and service developments that we can use to promote and maintain the health of our animals.
#SPECIALISATION There is no longer only the veterinarian with his specialisation in small or large animals. Anyone who wants to ensure that their pet is physically, mentally and emotionally well can now also turn with confidence to trained animal psychologists, homeopaths and physiotherapists. To keep the costs manageable, there is a steadily growing range of health and surgery insurances for the beloved family member. They can be a blessing, especially for often expensive operations. Spinal column and joint problems can also be countered more effectively nowadays, with wheelchairs, joint-friendly beds or prostheses, for example, the possibilities in rehabilitation technology are constantly increasing. The field of (self-)medication for our animals is also growing; pet owners can purchase a variety of medicines for the care of their pet from the veterinarian as well as more and more frequently from the pharmacy, quite a few of which have their origins in human medicine. Especially areas such as oncology, neurology and orthopaedics are characterised by a lot of movement and new developments.
#INDIVIDUALISATION As with us humans, nutrition has a significant influence on our pets. It is therefore hardly surprising that there are trends here too, which more and more pet owners are following. The first major trend to emerge a few years ago was the BARF method. BARF stands for organic, species-appropriate raw feeding. Here, raw meat is fed, whereby great care must be taken to ensure the correct composition, as otherwise malnutrition can occur. Barfing is very popular among dog owners. According to a 2020 survey, about 17% of dog owners and 9% of cat owners barf at least once a week. But not every trend is healthy. Recent developments include vegetarian and vegan diets for pets, which are quite controversial, especially for cats. This is also reflected in the attitude of owners towards it: about 2/3 feel that a vegan diet for dogs and cats is inappropriate, only 6% feel it is appropriate (2017). In another survey, 45% of pet owners agreed that a vegetarian diet for dogs and cats was wrong (2020). When feeding our faithful companions, it is therefore much more important to ensure that the food is healthy and natural, i.e. that it contains as few to no additives as possible and that high-quality basic ingredients form the basis. At the same time, individualisation of the feed, adapted to the specific needs of the pet, is becoming increasingly popular. In 2020, 7% of the respondents already took advantage of the possibility to create menus individually adapted to the pet and its state of health. In this way, age, illnesses that require a special diet and the increasingly frequent food allergies of our dogs and cats can be taken into account and the pet can be provided with an optimal supply of nutrients.
All in all, it is becoming increasingly clear how important the health of our pets is to us and there seem to be few if any limits to promoting it and maintaining it for as long as possible.
By Annika Jeuck (Internship Market Research) & Manuela Richter
Not enough trends yet? Want more #insights on animal health? Our team is looking forward to exchanging ideas with you!