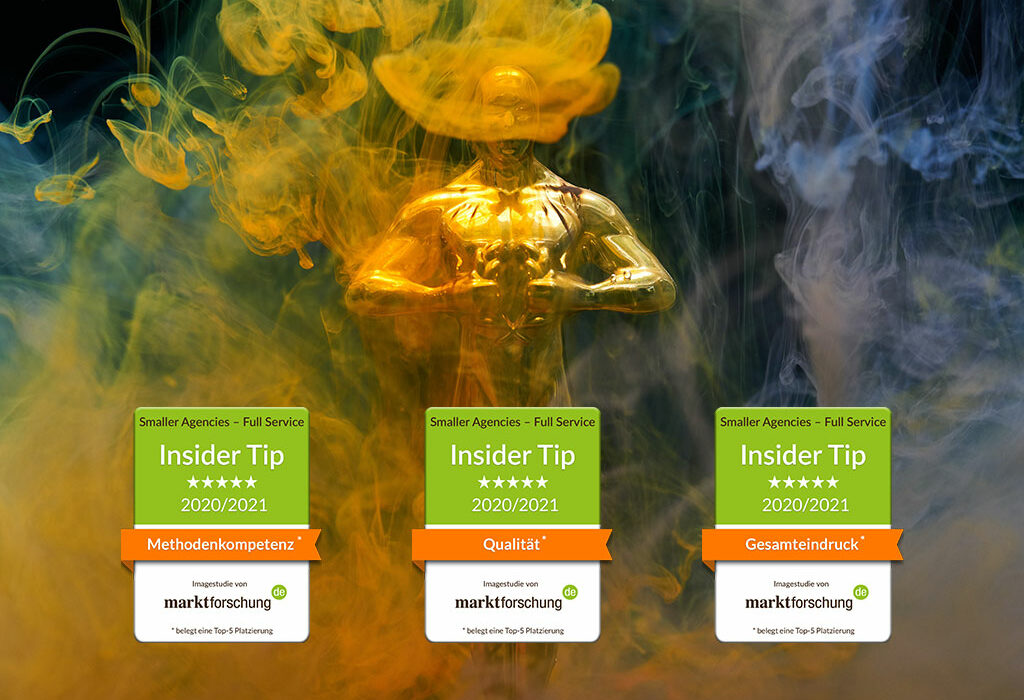 30. November 2020
Image study 2020/2021 Smaller Agencies
Many thanks to the industry for this special recognition and recommendation of our market research institute. We see this success as a team effort, so our special thanks go to our great and dedicated team! And, of course, congratulations to all the other winners!
For the fourth time marktforschung.de surveyed the image of market research service providers in Germany. The current image study 2020/2021 aims to provide orientation for placing of all kinds of market research orders and to award one of the coveted seals of approval to particularly positively perceived providers. The first part of the image study focused on medium- and smaller sized full-service institutes and determined the perception of awareness, overall impression, satisfaction, and image in 7 dimensions for the so-called "smaller agencies".
This year, a total of 50 full-service providers made it onto the watch list, which were evaluated in detail from the perspective of industry insiders on the end-client side, thus giving them a chance to receive the seals. The "Smaller Agencies Insider Tip" seal is awarded to those companies that are among the top 5 in the respective image rankings.
Two years ago, we were already pleased with our good results in the Insider Tips category, this year we (almost) lost our tongue with a Top-5-award in three dimensions. Our customers and business partners continue to see us among the top rankings in terms of quality, and we are particularly proud that the methodical profiling and expertise of our institute has been recognised to such an extent that it has even led to the top ranking here. In times of rapid developments in digital, autonomous, agile, data-driven, and other research methods, we are experiencing an ever-increasing need for advice and orientation from our clients. With 42 years of institute history, we have matured as an older "start-up" in the industry to such an extent that we can credibly mix the proven with the new. This is also reflected in our third seal of approval for the positive overall impression. However, we will not rest on our laurels, quite the contrary … it inspires us! So, the motto is to stay calm, continue researching with passion for our industry and "drum up" even louder in 2021.