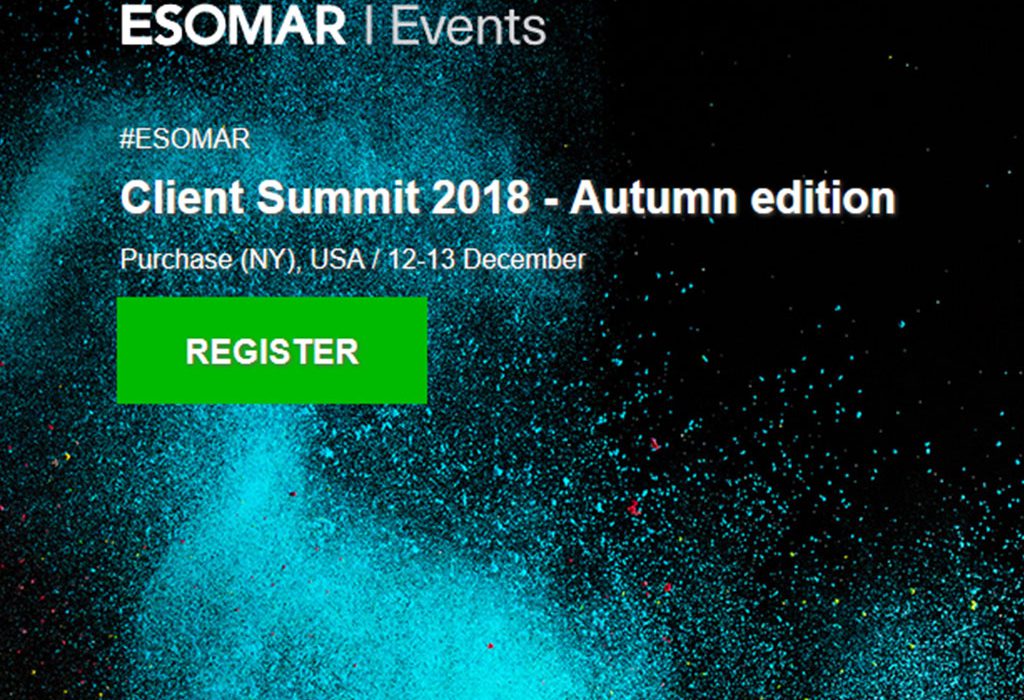 25. September 2018
Call for Inspiration!

CONTEXT: In 2016 and 2017, ESOMAR organised the Client Forum, with Heineken International as a venue partner. Attendance was exclusively for the client-side, to share/discuss/brainstorm business challenges and solutions specific to their functions. In 2017, we also launched "CLICK" which stands for Clients Learning and Inspiring Clients with Knowledge – an informal and private meetup for clients, held alongside an event. The Client Summit represents the evolution (and final event name) of the 2016 & 2017 Client Forums and the 2018 World Inspiration Network and will also include a CLICK meeting.
WHAT: The Client Summit is a two-day event, with only clients speaking, on topics that matter to them. The 2018 Autumn edition will be guided by our stellar committee and reflect the challenges and ideas most submitted during our Call for Inspiration. Good to know: speakers do NOT have to write a paper, though they do need to agree to be recorded. There will be ice breaker games, interactive brainstorming sessions and networking drinks both days. Research agencies/suppliers can only attend if they sponsor. Sponsorship packages are limited and we only have 3 left – happy to share more with those interested.
WHY: The Client Summit gives clients in our membership community (and beyond) a platform to meet, learn from and inspire one another. There are very few events tailored primarily for the client-side and ESOMAR wants to be a leader and valuable resource for them.
WHO: The speakers and majority of audience (70%) are made up of client-side senior and middle management executives across several industries and markets, from both big and boutique organisations. The rest are research providers and suppliers, advertisers, creatives, and academics. Speaker and delegate titles have included: CEO & Founder, Vice President, VP Market Research, Global Head of Consumer Insights, Senior Manager Consumer Strategy, Senior CMI Director, Market Research & Insights Specialist, Design & Research Strategy, Head of Insights and Innovation, Director of Global Market Research, Head of Ad Research, Intelligence Specialist, Research Analyst, Manager of Marketing Science Insights.
WHEN: The 2018 Autumn edition will be held at the PepsiCo world headquarters in Purchase, New York from 12-13 December.
CALL FOR INSPO & REGISTRATION: Our call for speaking proposals is open till 3 September. We hope to go live with a programme preview and registration at Congress end of September. We will absolutely offer competitive rates (lower than other client-side focused events) and as well as group discounts (10% off for three or more).